BUY AND SELL ON THE FIRST ARTIST SPONSORSHIP EXCHANGE

ALL SPONSORSHIP TYPES
Concerts, Events, YouTube, Instagram, TikTok, Facebook, Twitter, Twitch, Podcasts, PR, Editorial, Video, Film, and TV all in one place.
ARTISTS, NOT INFLUENCERS
Our network has artists generating content across all media types.  We work with agencies and managers to bring you the best quality talent.
EMERGING & CLASSIC ARTISTS
We work with independent, emerging, and classic artists with small to mid-size audiences.  Buy a whole category of artists at once to achieve scale.
POST YOUR SPONSORSHIPS
Our proprietary Sponsor Units ™  allow you to standardize your sponsorships and release them on an exchange to be bidded on by big brands.  Be bought with other similar artists in your category.
BUY MULTIPLE ARTISTS AT ONCE
Subtitle Here
Our platform allows advertisers to quickly buy 1,000s of artists at once – just like ​a digital campaign!
Just enter your SponsorUnit type, category, and bid price and then select from your available matches. The platform makes the execution of sponsorships simple and consistent​, and even allows you to verify the sponsorships before payment.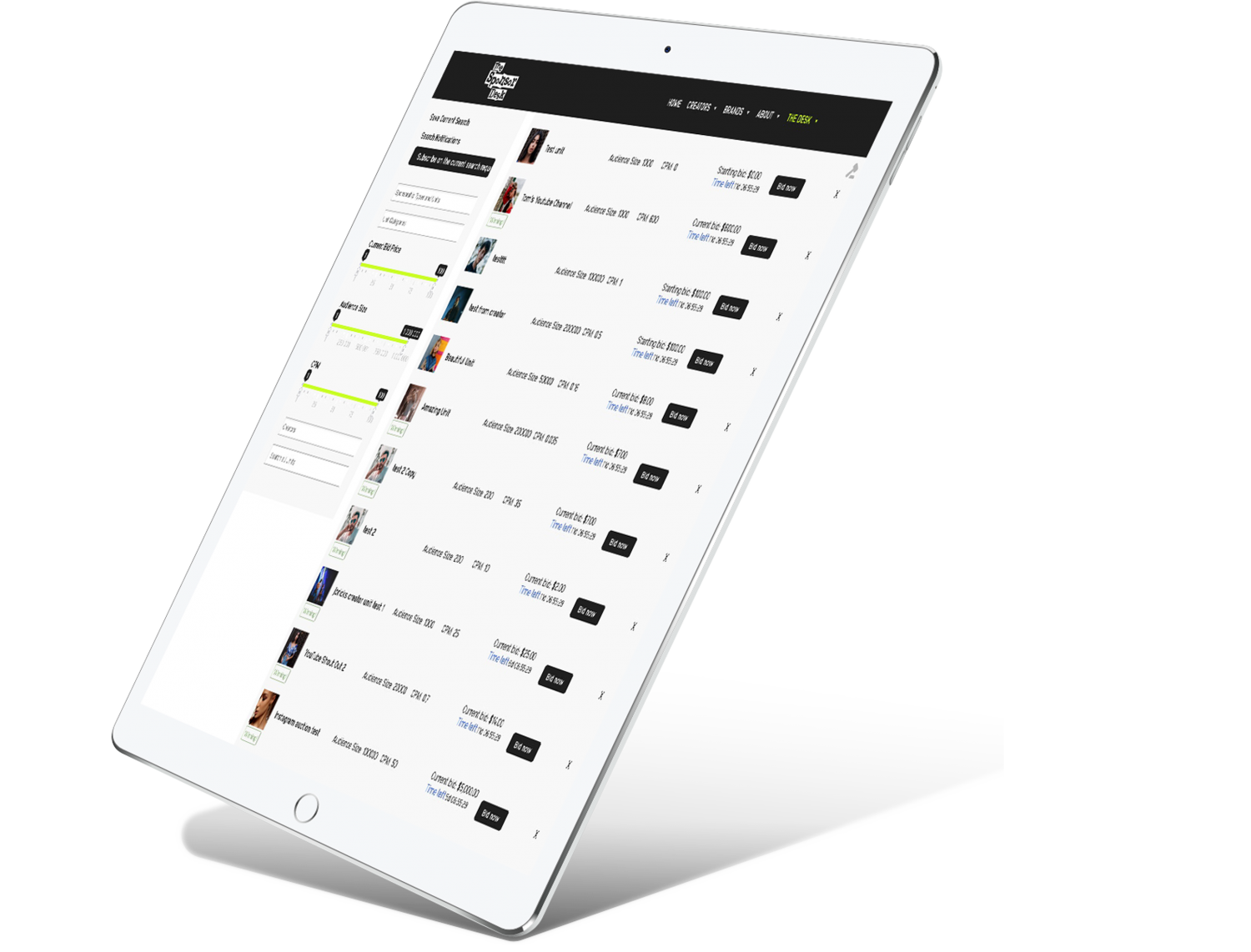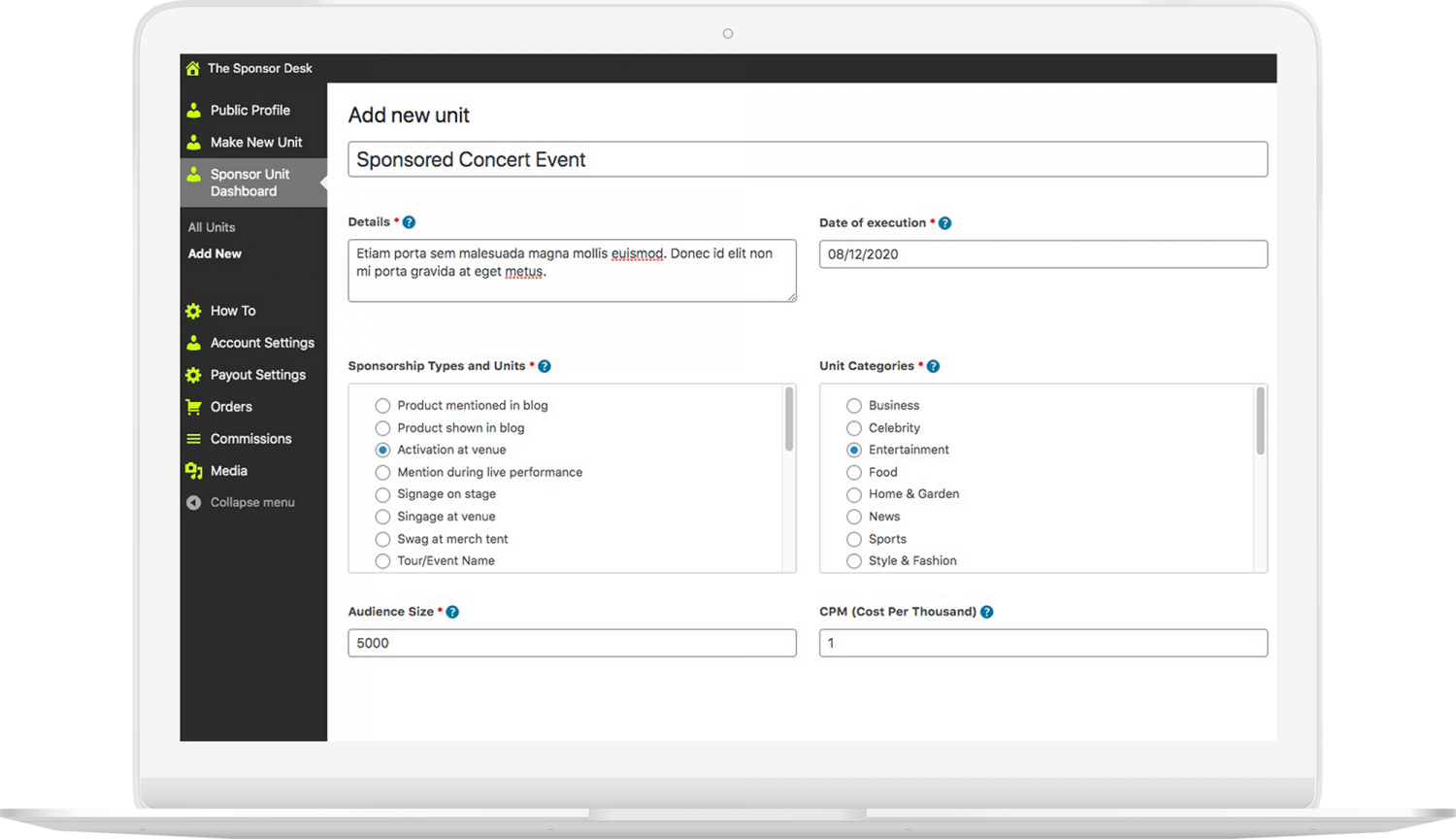 QUICKLY SELL YOUR SPONSORSHIPS
Title Here
By posting on our exchange you​r sponsorship opportunities will instantly be available to advertisers bidding on your category. No sponsorship is too small​- advertisers use our platform for bulk purchases of artists by type and category. You will always have control of what you sell and the freedom to select from any winning brand.
How To Get Started
Creators
1. Create a SponsorUnit
Decide your sponsorship type, category, and expected audience size.
2. Post your unit to the exchange
Watch bids come in from advertisers.  Post as many opportunities as you want.
3. Get Paid
Get paid to your PayPal when you complete the sponsorship.
Brands
1. Enter your campaign details
Select the type, category, audience size, of the sponsorships you want to buy.
2. Approve your campaign
Easily review each artist before you commit to a campaign.
3. Verify
Verify each sponsorship's accuracy before you pay for the unit.
PRIVACY GUARANTEED
We take your privacy seriously.   Any price you post for a SponsorUnit will only be seen by brand buyers when they log in to purchase.  Their user terms prevent them from sharing prices publicly.
MANAGER AND AGENCY FRIENDLY
We are a tool to help everyone in the industry.  Managers, agents, agencies, and everyone partnered with sponsorships are welcome to use the platform on behalf of their clients.
NO PLATFORM FEES
Our platform is completely free to sign up and use.   There are no minimums and no monthly fees.  We only collect a small fee once the sponsorship is completed.  Use your PayPal account for trust and accuracy.